Monday, July 6, 2009 at 6:17PM
Dear Blizzard,
All I want for Chrismas is a giant guild airship.
It is well understood that Blizzard's response to player housing (or guild halls) in WOW was essentially that other MMO's have already done this - so unless there's a compelling reason to do it really well, they aren't going to do it.

Here's what I thought would be a compelling reason.

There was a previous wow.com article regarding future expansions The Maelstrom Lore Behind the next WOW Expansion, it was mentioned that if we can have guild boats for Maelstorm. Designated officers can get to captain the boat. Then in a recent wow.com article All the World's a Stage the Guild Hall - there was a picture that's strikingly similar to what I was thinking about at the time.
Overcrowded Guild Airship (image via wow.com)
So I wanted to blog here my thoughts regarding using an airship as a guild hall - in fact this is something we should be able to have right now with existing assets.

Existing Assets
May be the guilds can start with a small version of the airship (like a goblin zeppelin - there are various models).
Then upgrade to the massive gunships in Icecrown for Ogrim's Hammer (horde) and The Skybreaker (alliance) variations.
The art works and model of the airships already exists.
Guilds should be able to hang their banners over the sides of the airship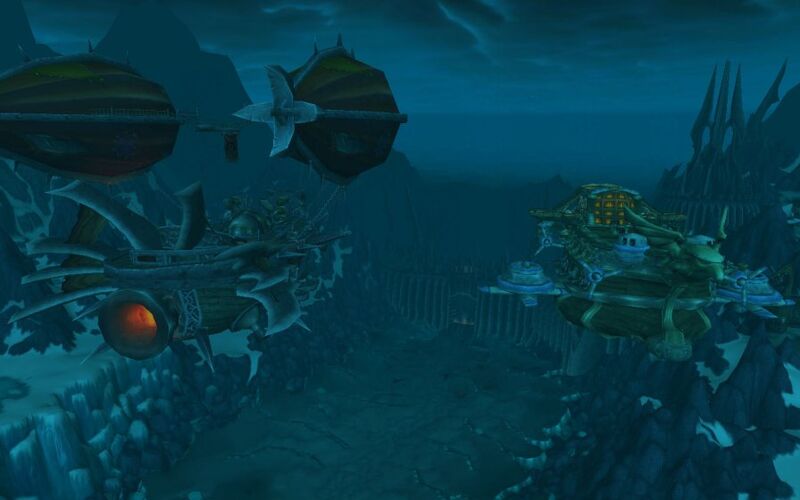 Ogrim's Hammer engaging The Skybreaker over Icecrown (image via wowwiki.com)

PvP
Airship guns can be used for battlegrounds (Isle of Conquest, or even Wintergrasp - if they allow flight) as a siege weapon
Skybreaker has a bomb on board, and Ogrim's Hammer has a rather menacing forward cannon.
launch aircrafts (the same as Riding the Wavelength or Static Shock Troops bombers in Icecrown) from a guild airship (hello Protoss Carrier!)
Anti-aircraft weaponary for airship-vs-airship or airship-vs-aircraft scenarios
ramming enemy airship!
boarding! board each other's aircraft to disable it during battlegrounds
Use Blastenheimer 5000 (darkmoon faire cannon) to launch players into specific drop zones (or enemy airships)

for levelling.
The designated captain of the airship can decide where to park the ship - so it can act as an additional hearth location.
rend-a-flyer works in the zone that the guild airship is parked in.
portals to different capital cities via NPC mages - similar to how Shattrath, Dalaran functions - but without the lag
npc vendors, repair, reagent, mailbox, guild bank
rested state (when the airship isn't in combat)
I'm guessing you'll need ropes to get back up, and parachutes to jump off

and...
massive gold sink for guilds that can afford this - repairs, fuel, ammo